Yesterday, I ran my first ever 5K. It all started about 10 weeks ago when I decided to get healthier. I knew that to stay motivated, I needed something more than just an abstract goal to work towards, and the Sunburst Races seemed to be a great target to shoot for. I've never been a runner, but I felt a 5K was a great way to get started and see if I had it in me.
Bonnie dropped me off in downtown South Bend yesterday morning and the starting gun went off at 7:15 and half an hour later, my race was complete!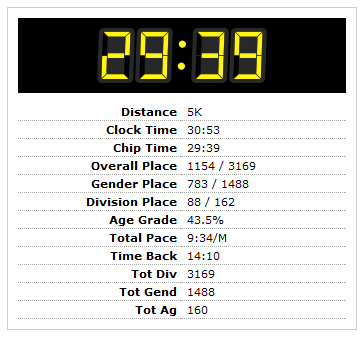 That's an official time of 29:39 – just barely under my goal time of 30 minutes. It's a great sense of personal accomplishment and I know I can improve on that time with more/better training and just educating myself on how to actually run a race.
As part of my training leading up to race day, I made a pretty drastic change to my diet and eating habits. I didn't keep any real records of my calorie intake and how many I burned during exercise, but I did make a conscious effort to eat less "bad" food in favor of healthier choices and just exercise more. I eliminated almost all snacking – especially after dinner sweets. As a result of these changes, I dropped almost 20 pounds of couch potato off my body in the past 10 weeks and feel so much more energetic.
I really am so glad I decided to get off the couch and participate in the Sunburst 5K. I'm already looking for something else to run in the fall – maybe even a 10K. Only time will tell…