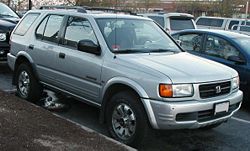 A little over three year's ago, I partnered with my credit union to purchase a new ride. It was a four-year loan and the first payment was made on March 28 in 2005.
Since January, we made additional payments on principal on two different occasions and just a few moments ago, I got to make an awesome phone call. I called my friend Matt who works at one of the credit union's branches and had him transfer the funds to pay off the car note – a full one-year early. So far, it seems surreal, but when the title comes in the mail next week, there will be some shouting at my mailbox!
I must first thank God for setting Bonnie and I on the right financial course about 15 months ago, Dave Ramsey and FPU for helping us get really focused about five months ago, my employer for their weekly contributions to my bank account, and last but certainly not least, my wife for her continuous encouragement and partnership as we inch our way towards financial freedom.